Sabbathday Lake Shaker Village
Sabbathday Lake Shaker Village was established in 1783. Sabbathday Lake was one of some twenty Shaker Villages established in the early decades of the eighteenth century, it is the only active Shaker community in the country today.

Shakers are famous for their villages which were the center for the Shakers for their work and their worship. As part of the Christian church, their religious beliefs and practices center on what they call "the Christ life" celibacy, communalism, confession of sin, pacifism. From that centering which dominates and guides their daily lives come accomplishments which have made the Shaker way of life much admired around the world- furniture, music, inventions, architecture, agriculture, arts and crafts, herbs, industry, culinary skills and literature.

The Sabbathday Lake Shaker Village makes available through exhibits and programs a look into those accomplishments and how they continue contributing to our daily lives.

Guided tours are offered through the museum season: Memorial Day through Columbus Day - Mondays through Saturdays (closed Sundays)10am-4:30pm. Fees are charged. The guided tours take visitors through many period rooms which tell the story of the Shakers from the 1700's to the present day. Those period rooms displaying in some cases unique Shaker items feature the many accomplishments of the Shakers within the actual buildings where they still work and worship and also include the history through the biographies of key Shakers.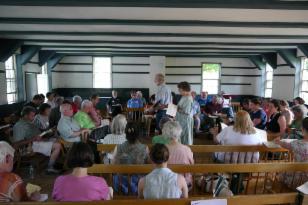 The Shaker Store is a gift shop where many items are for sale including various Sabbathday Lake "fancy goods" including the Shaker trademark oval boxes. The Shaker Museum Reception Center is a book shop and exhibit area - the exhibit is titled "Come Little Children, Come to Zion" this interactive exhibit portrays the Shaker life as lived by the children brought into the Shaker villages.

Public programs include craft, workshops and crafts demonstrations. A typical seasonal schedule might include
Woodworking
Woodcarving
Herbs
Oval boxmaking
Floorcloth
Chair caning
Children's programs
Knitting
Basketmaking
Weaving

Demonstrations:
Spinning
Blacksmithing
Woodturning
Quilting
Weaving

Special Events:
Herb garden internships
Maine Festival of American Music
Nature Walks
Concerts
Maine Farm Day
Apple Saturdays
Shaker Christmas Fair
Free catalog available listing workshops, demonstrations and special events.
For a free catalog and more information: (207) 926-4597
e-mail: usshakers@aol.com
Web site:
www.maineshakers.com